Should you wish to receive a hard copy version of this edition of MRO Solutions,simply email our team with your name and postal address to:
prefNZ@rs-components.com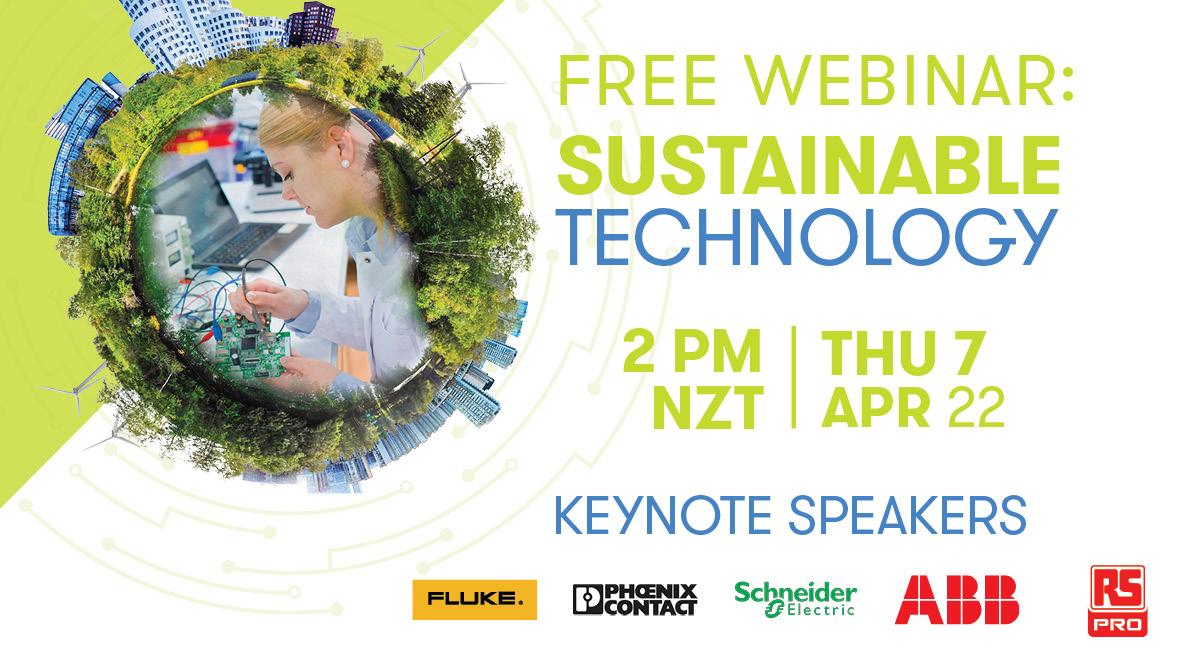 FREE Webinar: Sustainable Technologies in 2022
Learn how sustainability is not only at the forefront of product development, but how these products and technologies can help you save energy & wastage. Join us for Insights from the leading industry experts from Schneider Electric, Fluke, Phoenix Contact, ABB and RS PRO and help your business become more sustainable in its operations. Plus, All attendees who stay until the end of the session will receive a FREE e-Gift Card valued at $20*
Sustainable Technologies
With everything from informative guides and useful articles to technical specifications and product selectors, we have gathered all you need to produce energy-conscious designs.
Read more >
For a better world
We are committed to being a strong and sustainable business and bringing our people, customers, suppliers and communities together to accelerate our positive impact.
Find out more >
Making MRO sustainable
Sustainable and ethical procurement has risen to the top of the agenda for MRO professionals. With stakeholders expecting the highest standards, procurement holds the company's reputation in its hands
Find out more >
Sustainable Products & Technlogy
Sustainability is increasingly becoming a necessity for corporations due to changing perspectives around the world. It is becoming even more critical for companies to address the gap between knowing and doing by embracing sustainable business practices. Sustainability can be defined as providing for the present needs without compromising the needs of the future generations to meet theirs.

Businesses across the globe are implementing innovative strategies aimed at promoting sustainability within their business operations. Within our ever-evolving climate crisis, integrating sustainable practices into a business has never been more important

We have a wide range of energy-efficient products and sustainable technologies to help you shape tomorrow, today!
Safety - Is It Your Priority?
Workplace safety should be at the heart of a company's business strategy and is key to its success and sustainability. Find out why from the President of IOSH.
View Now >
Optimising asset performance
The challenges of maximising asset availability are many-fold. Discover insight and ideas on how maintenance strategies and technology can help.
Read More >
Your smart choice for Facilities Maintenance
Shop janitorial, cleaning, lighting, site safety solutions - batteries, tool kits, PPE and much more.
View Range >