Featured products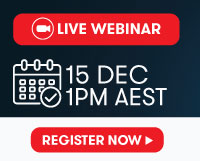 FREE WEBINAR | RESERVE YOUR SPOT
Join us on the 15th December at 12pm AEST to discover how RS PRO can save your business time & money
During this webinar we will introduce you to some of our key ranges and service offerings.
All attendees will go into the draw to win one of 20 x $100 vouchers!
DIN Rail Terminal Blocks
Connect with confidence using our extensive range of high quality DIN rail terminal blocks.
DIN Rail Power Supplies
Creating reliable panel power is even easier & cheaper with the RS PRO power supply range.
Push Buttons
Control your electrical circuits safely with RS PRO's wide choice of panel and PCB mounting push buttons & indicators.
Enclosures
Choose from floor standing, hand held or wall mounted - and don't compromise on performance or quality with RS PRO.
Sounders & Beacons
Whether for warning or status indication the RS PRO beacon and sounder range has you covered.
Hook Up Wire & Tri-rated Cable
Competitively priced, certified quality equipment wire and tri-rated cable from 0.05 mm² up to 35 mm² available from stock.
Panel Building Range Guide
Explore the full range of Panel Build products from RS PRO
Keep our handy digital guide for future reference
Save without compromising on quality or performance
Panel Perfection!
With a range like ours, RS PRO-BOT doesn't need to go far to build any kind of control panel - wall mounting or floor standing. Come with us for a ride and watch its latest project come to life!
Our Range, Your Choice
No other own brand gives you as many high quality, great value products with same day dispatch; and with over 60,000 to choose from the choice is in your hands.
We are so confident in the quality of the products in our RS PRO range, that we are offering a 3 year warranty.
Quality & price are key to our customers.
Corby Core, a contract manufacturing business making cable assemblies and control panels, tells us why RS PRO is a pivotal part of their purchasing mix. How it helps deliver quality, price and availability which is vital in helping meet their customer's needs.
About RS PRO
QUALITY: We rigorously test every part against demanding industry standards
CHOICE: We continuously expand our range to cover your every need.
VALUE: We price our products competitively without compromising our Quality