3M E.A.R Soft FX Series Yellow Reusable Corded Ear Plugs, 25dB Rated, 50 Pairs
RS Stock No.:

516-7265

Mfr. Part No.:

1271

Manufacturer:

View all Ear Plugs
---
In stock for delivery within 5 working
day(s)
Price (ex. GST) 1 Box of 50
Was $216.95
Box(es)
Per Box
Per unit*
1 - 19
$191.02
$3.82
20 - 39
$183.38
$3.668
40 +
$177.66
$3.553
*price indicative
RS Stock No.:

516-7265

Mfr. Part No.:

1271

Manufacturer:
RoHS Status: Not Applicable
Legislation and Compliance
RoHS Status: Not Applicable
---
Product Details
3M™ E-A-Rsoft™ FX™ Earplugs, Corded, 1271
The 3M™ E-A-R™ FX™ earplugs have a proven pre-moulded triple flange that is designed to fit most ear canals and offer substantial ear protection. These are made from a durable material and are easy to use again and again. The pre-moulded earplugs need no rolling down before fitting as they simply push into the ear canal for a clean and comfortable fitment. With a noise reduction of up too 25 dB they reduce hazardous levels of noise.
Comfort and Ease
The E-A-R™ FX™ earplugs consist of a triple flange design, which helps with providing low pressure inside the ear canal, therefore, creating comfort and wearability. The carrying cord allows you to carry the earplugs around your neck if you need to remove them for a break etc. They just connect to the stem of the earplug.
Protecting against noise
The 3M 1271 earplugs have a smooth, dirt repellent pods for greater hygiene, longer life and a comfortable fit. They provide excellent noise protection value of 25 dB.
Resealable pouch
Supplied with a resealable pouch as the last thing you want is getting the earplugs dirty when they're not in use. It will keep the earplugs clean and extend the lifespan.
Features and Benefits
Unique one size earplugs which fit most ear canals comfortably and provides a high level of attenuation
The reusable plugs are comfortable, hygienic and economical as they can be washed
Corded for storing around neck when not in use
Triple-flange design pre-formed to fit the ear
No roll down required
SNR - 25dB
FAQ's
Can these earplugs be washed and/or reused?
These earplugs can be washed and reused, this can be done with lukewarm water and soap or a disinfecting spray. Ensure the earplugs are dry before using.
What is the lifespan of reusable earplugs?
The lifespan of reusable earplugs will depend on the frequency of use and regular cleaning. Based on daily use we recommend replacing the earplugs after about 3 to 4 months.
Standards
CE 89 / 686, EN 352-2: 1993 and BSI.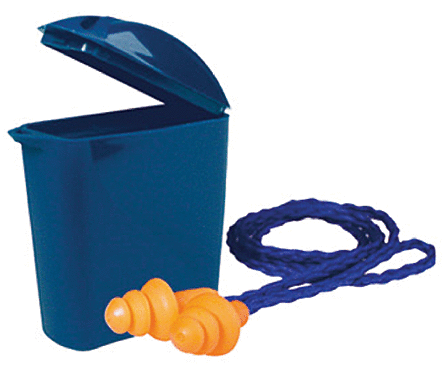 3M Ear Plugs, Corded Attachment Style, Monoprene Material - E.A.R Soft FX Series - 1271
Looking for a reliable way to protect your hearing from hazardous noise levels? Choose these yellow ear plugs from 3M. They're pre-moulded with a triple flange design, so they fit most ear sizes and won't work loose as you move. A single number rating of 25dB means they dampen noise to safe limits. As the plugs are made from soft formulation monoprene, they're comfortable to wear, even for long periods of time. Each box contains 50 pairs of plugs, so you'll have plenty on hand for your workforce.
Features & Benefits
• Made to be reusable, for a prolonged service life
• Blue polyester cord keeps the plugs held around your neck to avoid loss
• Meets CE safety standards
Applications
• Airports
• Warehouses and distribution centres
• Construction industry
How do I store these ear plugs?
To keep them safe and clean, the plugs come with a resealable pouch with a belt clip.


Note
Not suitable for low frequency noise
---
Specifications
| | |
| --- | --- |
| Attribute | Value |
| Reusable/Disposable | Reusable |
| Attachment Style | Corded |
| Number of Pairs per Package | 50 |
| Single Number Rating SNR | 25dB |
| Standards Met | CE |
| Series | E.A.R Soft FX |
| Material | Monoprene |
| Colour | Yellow |
| Metal Detectable | No |
| EN Standards | EN352-2:1993 |