Featured products
NEW Interactive Brochure
Download our NEW Interactive Brochure showcasing our broad range of Bulgin products.
RS is your one-stop trusted supplier for all your Bulgin components, from connectors to switches, and everything in between.
6000 Series Fibre range
Designed for harsh environments, featuring a secure, but easy to operate 30 degree locking mechanism, with field proven IP68 and IP69K performance.
Circular Power Connectors
IP66, IP67, IP68 and IP69K rated environmentally sealed circular power connectors designed to provide secure, connections in heavy duty environments.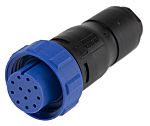 4000 Fibre Series Data Flex Connectors
Useful where installation space is limited
Sealing Cap available separately to maintain IP rating of unmated connector
Mate with flex inline fiber connector or panel mount connectors
Introducing the Bulgin 4000 Series Fiber Optic Simplex LC Buccaneer
Featuring a secure quick twist (30°) bayonet connection, the 4000 Series Fibre Simplex connector accommodates durable mechanical mating.
PX0 Series Cable Mount Field RJ45 Connectors
An ideal solution to connectivity in harsh and difficult industrial areas.
PXM Series Panel Mount Circular Connectors
Designed and independently tested to IP66, IP68 & IP69K standards.
DesignSpark is the home of our engineering community. It's an online platform which allows passionate engineers to share ideas and find resources or tools to help with their projects.