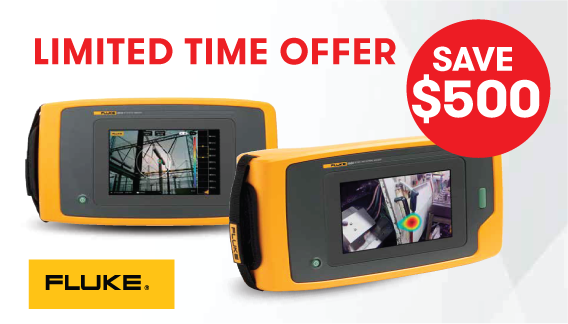 Save on the Fluke ii900 & ii910 Industrial Imagers
Quickly find compressed air, gas and vacuum leaks– the invisible energy thief. The first industrial acoustic camera turns sound waves into real-time images, to accurately pinpoint leaks at a glance.

Extended to the 30th September - Save on the Fluke ii900 and ii910 Acoustic Imagers with RS Components!
Request a Demo & Quote
During this time, we understand that assessing a new tool can be difficult, so that's why we are giving you the opportunity to test, try and evaluate select Fluke tools before you commit.

For a quotation or to find out if your business is eligible for a no-obligation on-site product demonstration - simply fill in this form and your local RS Representative will contact you.
Find the best industrial imaging tools for your needs
Leaks in compressed air, gas, steam and vacuum systems hurt both production uptime and the operations bottom line. While most manufacturers know that these types of leaks exist, it has been too time-consuming and tedious to address them until now.
With the Fluke ii900 or ii910 and minimal training, your maintenance technicians can begin checking for leaks during their typical maintenance routine—even during peak operation hours.

The ii900 series acoustic imagers let technicians see sound as they scan hoses, fittings, and connections for leaks. Its built-in acoustic array of tiny sensitive microphones generates a spectrum of decibel levels per frequency. Based on this output, an algorithm calculates a sound image, known as SoundMap™ that is superimposed on a visual image. The SoundMap is automatically adapted depending on the frequency level selected so that background noise is filtered out, making it incredibly simple to detect compressed gas leaks.

Finally, a better way to detect compressed air, gas, steam, and vacuum leaks. Plus, the ii910 provides increased sensitivity to detect leaks that are smaller or farther away.
Best for PD Detection
The ii910 can detect electrical partial discharge (PD)—a serious issue on insulators, transformers, switch gears, and high-voltage powerlines.
Shop the ii910 >
Best for compressed air leak detection
Available to buy via custom orders only - The ii900 has a straightforward, intuitive interface that allows technicians to isolate the sound frequency of the leak to filter out loud background noise.
Shop the ii900 >
Fluke ii910 Precision Acoustic Imager
The Fluke ii910 Precision Acoustic Imager offers an easy way to detect, locate and analyse partial discharge all in one tool! Finally a PD detector that is easy to use with minimal training, portable and rugged enough to carry around as part of your standard maintenance routine. Do it fast, do it safe, and prevent downtime before it occurs.
Fluke ii900 Industrial Imager | Key Differences
The world's first acoustic imager that revolutionised leak detection. Fluke believe that there is always a better way of doing things. Fluke's ii900 Industrial Sonic Imager simplifies the way you locate compressed air, gas and vacuum leaks through SoundSight™ technology – letting you visually see leak locations up to 70 metres away on a 7"LCD touchscreen.

Its easily adjustable 2k Hz – 52 Hz wide frequency range ensures different types of application leaks can be detected. Check out our video to learn more about Fluke's ii900 features and benefi
Case Study: Railways maintenance
Read how the ii900 helped detect and localize leaksin brake systems.
Read Story >
Case Study: Tire Manufacturing
Read how theii900 helped reduce downtime by detecting the problems inadvance.
Read Story >
Case Study: Health Care
Read how the ii900 locates gas and airleaks in medical facilities which is critical to patient careand facility efficiency.
Read Story >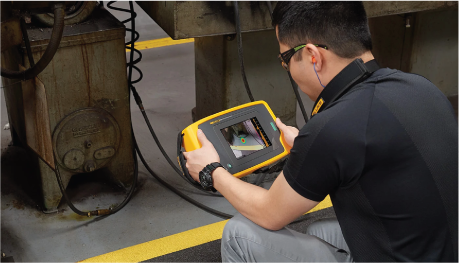 How to detect leaks AND find hidden profits
Many compressed air, gas and vacuum systems are compromised by wear and poor maintenance practices, which contribute to the greatest waste of all—the ever-present leaks. These leaks can be hidden behind machines, at connection points, overhead in fixed pipes, or in cracked pipes or worn hoses. The waste adds up quickly and can even lead to downtime.

Avoid unplanned downtime, eliminate safety risks, and make significant energy cost savings for your company with the Fluke ii900.
Partial discharge testing made easy
Partial discharge emits sound in the ultrasonic frequency range. With a high-sensitivity acoustic imaging camera, such as the Fluke ii910 Precision Acoustic Imager, you can detect and precisely locate partial discharge.

The ii910 overlays a map of the sound on top of a visible image which makes locating the source simple.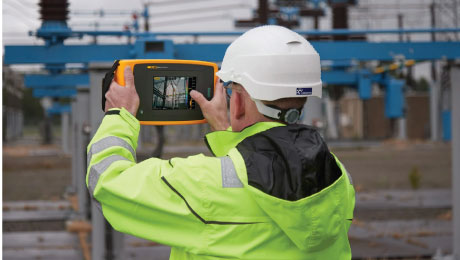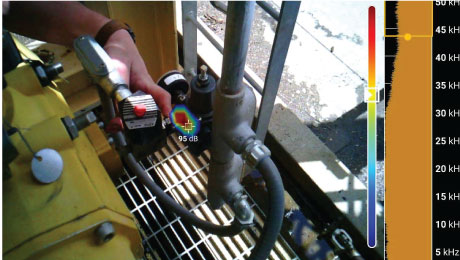 14 ways hidden air leaks wreak havoc on equipment
Beyond performance issues and reduced energy efficiency, the damage caused by unnoticed gas or compressed air leaks can be substantial.

Read about some of the top issues that can be averted with the Fluke ii900 Acoustic Imager, which will help you find these sneaky leaks so you can repair them before they cause costly downtime.